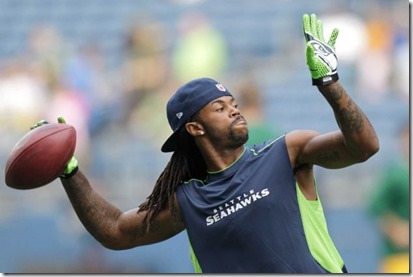 Also known as "King Rice" & "Squid" 27-year-old Sidney R. Rice Wide Receiver for the Seattle Seahawks might have missed the action during yesterday's Super Bowl after suffering a knee injury back in October but he was still with his team and his 12's. The player was placed on injured reserve after he did not return for the second quarter of the NFC West showdown game with the St. Louis Rams.
First it was said, for a team that's already rather thin at receiver, an injury to an explosive target such as Rice is a big detriment and that Quarterback Russell Wilson couldn't rely on anyone else to consistently stretch the field. But hey look at them now! Rice's team came through with flying colors! And beat the odds!
And Rice still shine on the sideline! So during this "time off" we wonder who is "Sidthekid" spending his precious time with? Who is taking care of him? Is there a special lady around?
Back in 2011 he was romantically linked to a a mystery bikini clad blonde, whom he was pictured with having a cozy time in the beaches of Miami.
He was also said to be dating Miss Britney Rich of Hollywood,Ca., but the alleged couple haven't been seen or pictured together for ages! Alright so, the Hot wings and shrimp lover might not be dating anyone that we know of, so here are some facts about him to get to know him better, just in case!
The South Carolina college graduate is the son of Ida Coleman and has two older brothers, Jarvis Rice and Tremell Austin. He has been playing in the NFL for seven years. He was drafted by Minnesota Vikings in 2007.
Rice has about 27 tattoos in that fitted body of his, he listens to Hip Hop, R&B, Pop, Rock, Electronic but his all-time favorite is Bob Marley. He looks for a person with the following qualities, great attitude, personality and should know how to carry themselves in the right manner. He considers his best play to be his first touchdown.
His hero: Jesus Christ, and his charitable work includes working with children's hospital.
Among other qualities describing Sidney would be returning lost fur coats! Yup, like he did just a few days ago when actress Lindsay Lohan forgot half of a two-piece fur coat at New York City's 1 Oak nightclub.
Definitely a  great catch!
Follow him on twitter here!