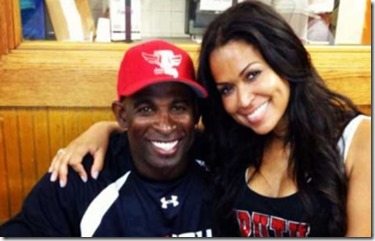 Winning producer, savvy business mogul and accomplished studio executive, that are some of the words we can use to describe beautiful Tracey Edmonds. Aside of the many titles, Tracey is also the girlfriend of former NFL superstar Deion Sanders.
Last March Tracey had to appear in court at the Dallas, Tex. custody trial of the athlete and his estranged wife, Pilar Sanders. Deion said he and Edmonds did not begin to date until after he filed for divorce from Pilar. The couple allegedly met in 2011 but started dating in 2012.
Tracey Elaine McQuarn  who was born February 18, 1967 might be known for some. The daughter of Jacqueline and George McQuarn and sister of Michael McQuarn, was previously hitched to Grammy-Award winner record producer Babyface. They got married in 1992 and 13 years later and two sons- Brandon and Dylan- she filed for divorce in 2005.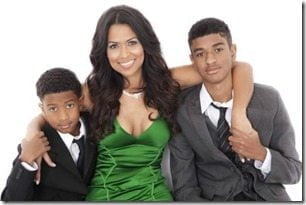 Tracey is a psychobiology major from Stanford University. On her impressive LinkedIn we found, Edmonds, a 20-year veteran of the entertainment industry, has established herself as an award-winning producer, savvy business mogul and accomplished studio executive. She has created and produced groundbreaking projects for television, music and film both independently and with major studios. She currently serves as COO and President of Our Stories Films where she oversees the development and production of projects for urban audiences, and she also serves as the CEO of her own production company, Edmonds Entertainment. In March 2013, Edmonds also launched ALRIGHT TV, an inspirational, faith-friendly YouTube Premium channel, for which she serves as President and CEO.
The 47-year-old also belongs to a few groups and associations, including Board of Governors for the Producer's Guild of America (PGA) Board of Trustees for American Film Institute (AFI) Executive Committee for NAACP Board of Directors for Children Uniting Nations Global Ambassador for Care.
She has received a few awards, from those we can mention, Turner Broadcasting System's Tower of Power Award (2000), Ebony Magazine Outstanding Women in Marking & Communication's Entrepreneur Award (2002), Girls, Inc. Award (2004)
Southern University Honorary Doctorate In Business (2004), National Organization for Women's Excellence in Media Award (2005) and The Caucus for Television Producers, Writers and Directors' Diversity Award (2006).
The savvy business woman was also romantically linked to actor Eddie Murphy in 2008 but for now is safe to say the only man in her heart is Sanders. The gorgeous mom of two is all in favor of her man serving as captain and general manager in charge of divvying up the NFL stars.
Want to see more pictures of Tracey Edmonds and her fantastic figure, click here and you can see a list of her filmography here.