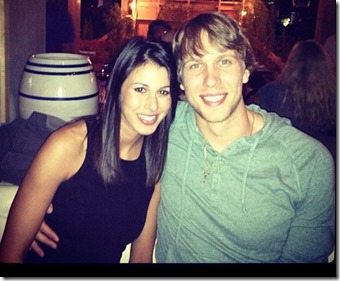 Meet Tori Moore! She is the long time love of Philadelphia Eagles' Nick Foles. Don't they make a nice looking couple?
Foles is one lucky fella, he's been dating Moore since his days in the Pac-12. There is little info on her but here is what we found. She is no stranger to the discipline a sport requires, she is a former University of Arizona Volleyball player. She played for Ripcurls under coach Dave Hollaway.
Some of her achievements as a four-year letter at Brea-olinda High in California include being named team Captain, a First Team All Conference selection, named team MVP her sophomore year, named Most Improved and Most Inspirational, she was a BOHS Scholar-Athlete and an All-Century League. As a wildcat before graduating in 2011, she saw time in 18 matches.

And she is definitely not stranger to the NFL, with her own blood being, brother Evan Moore, NFL player and former Philadelphia Eagles TE. She has two older brothers. Her brother, Ryan Moore, played basketball at UC Davis.
She currently works for Nike in Beaverton, Oregon.
Tori's guy apparently is the man, the word is his team made their latest coaching hire with their starting quarterback in mind.
The Eagles think enough of quarterback Nick Foles to make coaching hires based on his personality. That is exactly what the team did with the hiring of new quarterbacks coach Bill Musgrave, according to Philly.com's Jeff McLane. Adding Musgrave to the staff was with "Foles in mind," according to McLane. Isn't that the coolest!
According to Tori's old bio from the arizonawildcats, she enjoys sleeping, eating, watching TV, reading, shopping and spending time with her family.
To that we can also add spending time with her beau, Foles.
Find Tori on Facebook here.