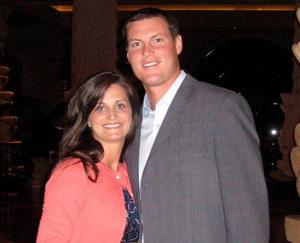 Tiffany Goodwin Rivers has been married to Philip Rivers since 2001. They met in junior high, in the 7th grade. Philip says that when he met her he knew she was the one for him. They dated through high school, and after his freshman year at college, they got married. Tiffany was 18 and Philip was 19.
Tiffany is a convert to the Catholic faith. Philip grew up in a Catholic household. They now have seven children together. Halle their oldest daughter was born while they were still in college. Caroline (b. January 31, 2010), Grace, Sarah Catherine and new born baby girl, born on October 28, 2013 make 5 girls. Their two sons are Gunner and Peter born in 2011.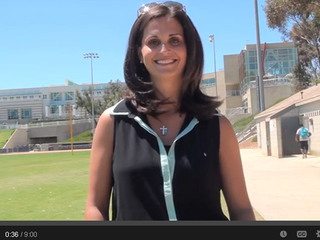 In an interview, Philip said, "On the rare occasion my wife and I will get some time to ourselves and leave the kids with a babysitter, we'll go to the movies or head to dinner. We're really simple people. Both of us are homebodies, so we like home dates. When the kids are all tucked in we'll watch a game that's recorded or just sit and chat. She's so busy all day with the family and I'm busy here with the team that it's nice to get that time to talk and catch up on each other's day."
Babies seem to be a lucky charm for Philip judging by the game he had yesterday! He threw for 392 yards and three touchdowns to beat the Kansas City Chiefs 41-38. What a game!
Although the Chargers may not win the Super Bowl, Philip and Tiffany with their brood of kids seem to have won the lottery.