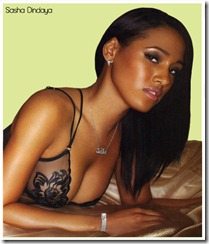 Sasha is an inactive model  and current wife of Antonio Gate.
You probably recognize Sasha from a video from David Banner. Antonio Gates wife Sasha Dindayal is a former hip hop video star slash model who has been out of media to open her own business. She was formerly engaged to Marcellus Wiley, which reportedly ended after someone having an affair. He took back the Range Rover. She dated and lived with video director Hype Williams. Their relationship ended after infidelity too…
Antonio and Sasha were married July 9, 2011 at a high end ceremony and party at the Grand Del Mar hotel in San Diego. Guests included current Charger teammates Shaun Phillips and the pride of UMaine, Stephen Cooper.
Sasha Dindayal is a gorgeous beau with parents of Trinidadian background who is mixed with African-American, Spanish, Chinese and Indian. Not only is she pretty, she sings as well.  Ms. Dindayal is actually from Toronto, Canada but now lives in California.
Sasha Dindayal had an unsavory past. Sasha had been engaged to one of Antonio's teammates, did a stint as a video vixen and was even said she did some escorting…
His ex got really upset after he got married… Once when Sasha was  coming out of the Gates estate, and in an outburst she ran her car into the iron gates fronting Antonio's mansion, smashing her car and breaking her breast implant.
Anyways.. after this tragic event, the couple, had to postpone their Tahiti honeymoon. The father of the groom didn`t go  the wedding.
Check more on her here.