Get to know Davone's Stunning Wife
Davone Bess the former NFL wide receiver with the Cleveland Browns , is happily married to his beautiful wife Rachel Mulleitner also known as Rachel Bess; if about Mrs. Bess that we are here to tell all the juicy details about this fab wag!!
35-year-old Davone Bess from Hayward, California joined the Miami Dolphins during the NFL Draft in 2008, he went undrafted but still managed to impress the Dolphins who were very pleased to see him accomplish his first touchdown against the Ravens.
Bess was traded to the Cleveland Browns on April, 27, 2013, on Friday, January 17, 2014 Bes was arrested at Fort Lauderdale/ Hollywood airport after he acted erratically and confronted an officer, His arrest comes one day after he posted a suspicions photo of a package that contained what it looks like weed, the photo was later deleted.
Now let's hear about the Mrs.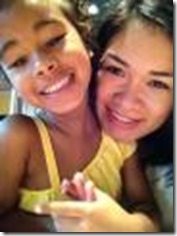 32-year-old Rachel Mulleitner originally from Hawaii, met her husband in 2005 when he attended at the University of Hawaii after he lost his scholarship to Oregon State when he was sent for 21 months to Byron Boys ranch the juvenile facility after he allowed a friend to place stolen items inside his car.
It is unclear when did rachel Mulleitner got married and became Rachel Bess, but we know she gave birth to the couple's daughter, Kyrah Imani Bess in 2008, their son Kingston was born in November, 2010 and in 2012 Rachel gave birth to their child, a son named Kaiyen.
Davone Bess Interview 2021 – Talks NFL Career and Mental Health Journey
This is a great interview on Beyond the Helmet Podcast for 40+ min with Davone Bess. We really get to know where is now and the long life journey he has been on over the past few years. Definitely worth a watch. This is a great Podcast, this guy really has an engaging interview style that seems to resonate with the stars he interviews. Check it out.
Davone Bess talks NFL Career and Mental Health Journey
Looking for more news on the Hottest NFL Wives and Girlfriends? We've got you covered in our most popular reader favourites here