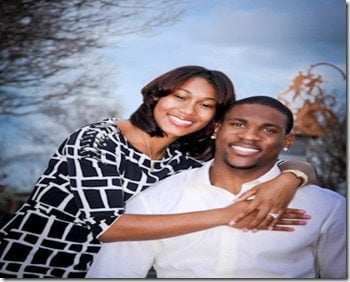 Let's meet Antonique Larry, she is the wife of Arizona Cardinals cornerback and former LSU star Patrick Peterson. Young couples always seem to surprise us, but as they say, when you know, you just know.
Peterson and Larry met through mutual friends while attending LSU. Ms. Peterson is a New Orleans native, she graduated from LSU in the spring of 2012, with a degree in microbiology. She is currently on her second year of med school pursuing her master's degree in biomedical sciences. Antonique is an aspiring doctor of osteopathy who's attending med school at Midwestern University in Glendale.
Antonique and Patrick said their I do's on June 16, 2012; just before his 22nd birthday; attended by many of Peterson's Cardinals and LSU teammates. They dated for a few years and then the inevitable came, the proposal; they got engaged January 11, 2012 and five months later they became hubby and wifey.
The couple had a gorgeous ceremony at the Roosevelt New Orleans Hotel; rich gold textured linen combined with soft silver accents looked fabulous paired with red floral made for a dream wedding to Larry and her beau.
Her notorious man, was recognized as the best college defensive back in the country during his days at LSU and earned All-American honors. He was drafted fifth overall by the Arizona Cardinals in the 2011 NFL Draft.
Wondering what is like to be married to an NFL star player? Antonique can tell you
In the video, she reveals she felt like a princess the day of her wedding but also is aware that is not always about Peterson's career. And although she has a dream of her own her hubby is making the headlines for this weekend. Antonique's husband was selected as the fifth player overall and he was the first defensive player taken. He was selected by Deion Sanders, who said that Peterson reminded him of himself.
As his number 1 fan and supporter; after games, Antonique's critiques can sometimes be brutal, but Peterson appreciates the feedback.
"I argued with her maybe once about my overall grade," he said, "but she's pretty on point. Being in med school, she gets graded pretty tough, too. And I'm definitely hard on myself, in football and everyday life, so I appreciate it."
She'll definitely bee on top oh her hubby's game this weekend.
You can find her hubby on twitter here.