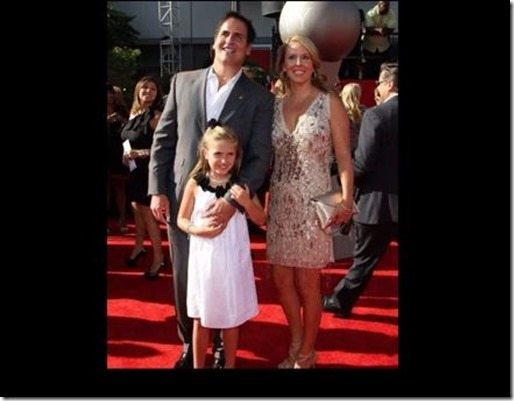 Let us introduce you to Tiffany Stewart Cuban, she is the wife of Dallas, Mavericks owner and magnate Mark Cuban. So Tiffany is probably not looking forward to becoming the next Rochelle Stein. Her husband is catching a lot of heat for recent comments he made during Inc.'s GrowCo conference in Nashville on Wednesday; stirring the Donald Sterling saga.
Tiffany's hubby talked about prejudice. He said he had to fight against internalizing stereotypes and that "none of us have complete pure thoughts"
Tiffany was born Jan 1st, 1970. She is a former Advertising executive. She met him at a gym and after dating for three-years they tied the knot. The large-eyed strawberry blonde 14 years his junior, worked at an ad agency and drove a Honda when they started dating.
Tiffany Stewart walked down the isle to Cuban in September 2002 during their ceremony in Barbados. They are parents to three children. Tiffany first gave birth to daughter, Alexis Sofia, born in 2005; they welcomed their second daughter, Alyssa, born in 2007 and their third and only son, Jake, born in 2010.

Since the age of 12, Mark has been a natural businessman. Selling garbage bags door to door, the seed was planted early on for what would eventually become long-term success. After graduating from Indiana University – where he briefly owned the most popular bar in town – Mark moved to Dallas.
Cuban originally struck dot-com gold in 1999 with business partner Todd Wagner; together, they sold audio and video portal Broadcast.com to Yahoo! for $5.7 billion. In subsequent years, he and Wagner have joined forces on ventures including AXS TV (formerly HDNet), Landmark Theaters, and movie maker Magnolia Pictures. He remains an active investor in new ventures and appears as a "Shark" investor on ABC's Shark Tank.
Since his acquisition of the Dallas Mavericks in 2000, he has overseen the Mavs competing in the NBA Finals for the first time in franchise history in 2006 – and becoming NBA World Champions in 2011. They are currently listed as one of Forbes' most valuable franchises in sports.
Tiffany has been described as the one who keeps him leveled –except when he parties a lot –The Business Insider reports that Mark Cuban and his wife make sure that their kids will not become spoiled. About their children the couple says
"They have to be themselves. They can't be Mark Cuban's or Tiffany Cuban's son or daughter. They have to be adults and they have to carry their own weight.
Tiffany and Cuban reside in the Preston Hollow area of Dallas.