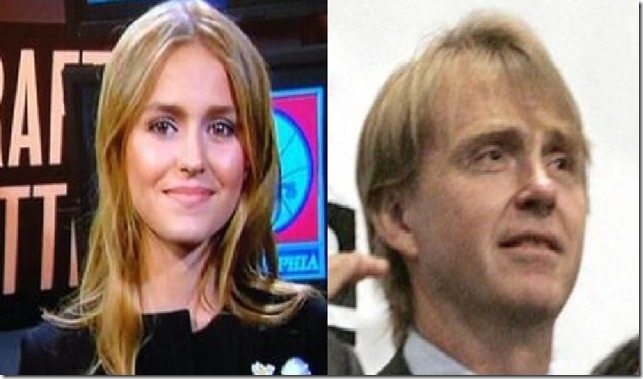 Wondering a way to become seriously famous over night? Just ask Mallory Edens.
Meet Mallory Edens, she was the girl representing the Milwaukee Bucks franchise at the 2014 NBA Draft Lottery, and how she happened to be there? Well, easy, because she is the daughter of Bucks owner Wesley Edens and wife, Lyn Edens.
Her father gave the reins to Mallory for the 2014 NBA Draft Lottery.
The world or at least a good chuck of it, probably didn't know who Mallory was before Tuesday night, it sure does now!
For the creepers trying to hook-up with the beautiful blonde, sorry to say but she is still in her teens!
The 18-year-old gained instant celebrity status when her twitter account went from 249 followers to more than 25,000 by midnight PT. Mallory is a high school senior and will graduate next month. She was also the top trending term on the social media site. She told the Milwaukee Journal Sentinel that sitting next to Philadelphia 76ers legend Julius Erving during the festivities was "sort of unbelievable." She wore a couple of lucky pins and although it didn't deliver the No. 1 pick to the Bucks she certainly made some splash for herself. She was the social media winner, since she has been picking up followers ever since ESPN first showed her on TV.
Acording to her Twitter which is not very revealing, she has been vacationing in Germany, Last April she tweeted
so much – time for this to come home from Germany!!! #3moredays
Mallory's dad is a Principal, Founder and Co-Chairman of the Board of Directors of Fortress Investment Group LLC. Fortress was founded in 1998 and is a $62 billion alternative asset management company with headquarters in New York and offices around the world. Mr. Edens is responsible for Fortress's private equity business, which primarily invests in transportation and infrastructure, real estate, health care, financial services and media. A short bio on him reads:
Prior to founding Fortress, Mr. Edens was a partner and managing director of BlackRock Financial Management Inc., where he headed BlackRock Asset Investors, a private equity fund. In addition, Mr. Edens was formerly a partner and managing director of Lehman Brothers. Mr. Edens received a B.S. in Finance from Oregon State University.
Mallory has some big shoes to fill in, but she certainly is going in the right direction!
Find out how many followers she has now by checking her account here.