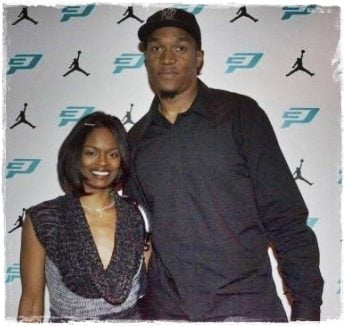 Have you met David West's pretty wife? her name is Lesley West, this lovely Fab NBA Wag is very dear in Indiana, not just because her hubby is one of the best player with the Pacers, but also Lesley is an extraordinary, lady.
33-year-old David West, the 6'9"  power forward player, a  Xavier University graduate who was selected by the New Orleans Hornets in the first round,  he was 18th overall pick of the 2003 NBA Draft; west has been a Pacer since December, 2011.
So what about Mrs. West????
32-year-old Lesley  West was born Lesley L. Stewart in 1981 in Ohio, she attended Walnut Hills High School. We found some records that she worked at Quintiles Transnational Corp. Lesley met her husband in college.
"we met in college. He came to a step-show my sorority put on and was waiting for me after the show."
Lesley and David West got married on September 18, 2003 in Hamilton, Ohio, they have two beautiful children together Dasia their pretty girl and Benjamin their precious boy.
Lesley hosted the 2012 and 2013 Lesley West Prom Dress Drive at Bankers Life Fieldhouse, she has hosting this event for over a decade, first in New Orleans, now in Indiana. The initiative provided over 300 new or gently-used dresses to Indianapolis area teenage girls, she is involved with the African American Women Breastfeeding Changing The World One Baby At A Time.